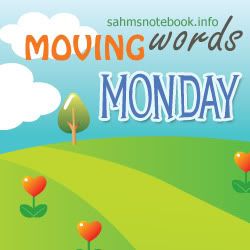 I have this page always bookmarked from a book my friend gave me, Quite Moments with God for Mothers. It's what I always turn to and read whenever I'm confronted with challenges and worries to help me be reminded that God is always with me, protecting and helping me win in all my battles. Here's a portion of the text I'm sharing this week for Moving Words Monday, that I hope will be of help to you, too:
God is our Protector . If we bring Him into the battles of daily life, there is no enemy that He cannot conquer with a simple word. He is better than a protective brother. He is the ultimate Knight who fights the battles we cannot fight on our own.
Maybe no one is stealing your lunch money, but perhaps you're allowing something or someone to steal your joy, your peace, and your passion in life. Allow the King of Kings to step in and fight for you. He loves you and will never abandon you. He loves taking on the bad guys to bring lightness, peace, and confidence to your step. There is no bully alive that He cannot conquer. :)
Thanks in advance for sharing your inspiring words and hope you all have a beautiful week ahead!